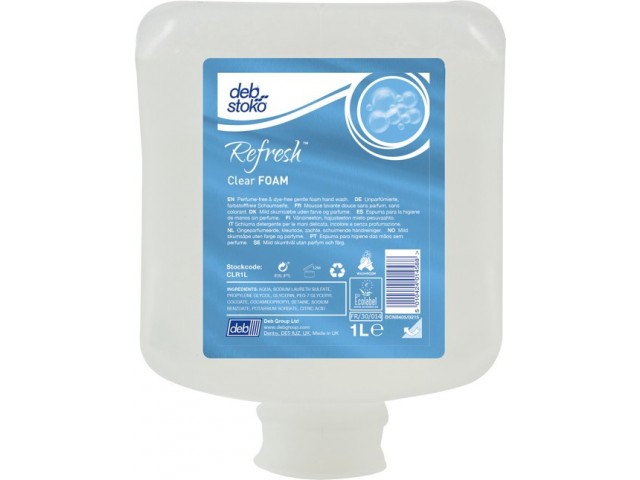 Deb 'Refresh' Foaming Hand Wash (Clear) 1L Refill
Price: $19.62 - $24.56 /each
Code: WHFWC1
Dimensions: 1L
Unit: Each
Quantity Pricing
| Quantity | Rate/each |
| --- | --- |
| 1 each | $24.56 |
| 3 each | $22.12 |
| 6+ each | $19.62 |
---
Deb 'Refresh' Foaming Hand Soap (Clear) 1L Refill
Remove 99% of Dirt and Germs - just a single pump to deliver highly effective skin cleansing when used properly.
Perfume-free, dye-free and hypoallergenic formulation - helps reduce potential for allergic reaction and skin irritation. Ideal for people who are sensitive to fragrances.
Contains Glycerin - a skin moisturiser to help improve skin hydration and prevent drying, leaving the skin feeling smooth and firm after use
Non tainting and HACCP assessed formula - suitable for use in food production and preparation areas
Specially Formulated with one of the Mildest Preservatives - using milder preservatives reduces the risk of skin irritation
Contains Skin Moisturizer - helps prevent drying and leave the skin feeling smooth after use
For use at home or at work.
Cost effective
To be used through a Deb dispenser.
All Deb dispensers are treated with BioCote to reduce mould and bacteria growth on the dispenser.
Easy installation (simply peel adhesive pads and mount to a clear dry surface or screw to the wall)
Delivery throughout NZ
Biodegradable Formula - this formula and each of its carbon-containing ingredients will rapidly decompose into simple, non-toxic substances in 28 days or less in accordance with OECD301F standard