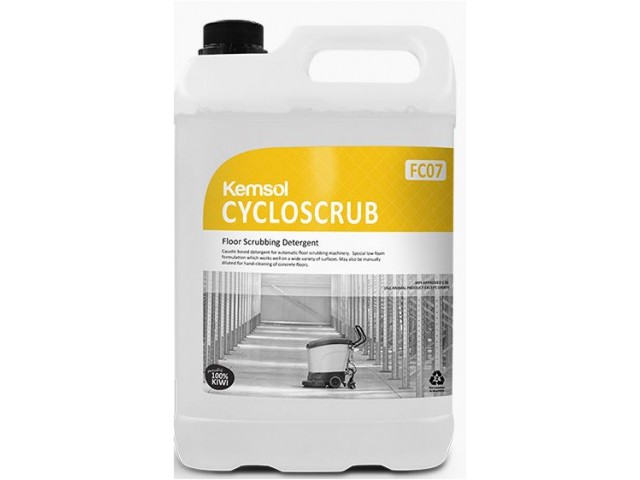 Cycloscrub Floor Scrubbing Detergent 5L (FC07)
Code: WCCYC5
Dimensions: 5 Litre
Unit: Each
---
Cycloscrub Floor Scrubbing Detergent 5L (FC07)
Caustic based detergent for automatic floor scrubbing machinery. Special low-foam formulation which works well on a wide variety of surfaces. May also be manually diluted for hand-cleaning of concrete floors.
Caustic Based
Fast and Effective Degreasing
Food Sector Applicable
Low Foaming
Multi-purpose
Non-fragranced
Directions:
For use in an automatic floor scrubber machine use as directed by machine manufacturers instructions.
As a guide this is generally diluted in the mix tank at approximately 1:50 (2% soln, 20ml per ltr) with potable water.
May also be used manually for heavy-duty floor cleaning at the same dilution rate, or stronger as required.
NZFSA APPROVED C38
Properties
Appearance: Clear colourless liquid
Fragrance: No fragrance
Specific gravity: 1.16
pH: 12.5 (1% w/v solution)